|

First|

Prev | Next

|Last

|

Experimental Comic Kotone #540 "Mouse Captor Anya1"
(Story Arc: Mouse Captor Anya)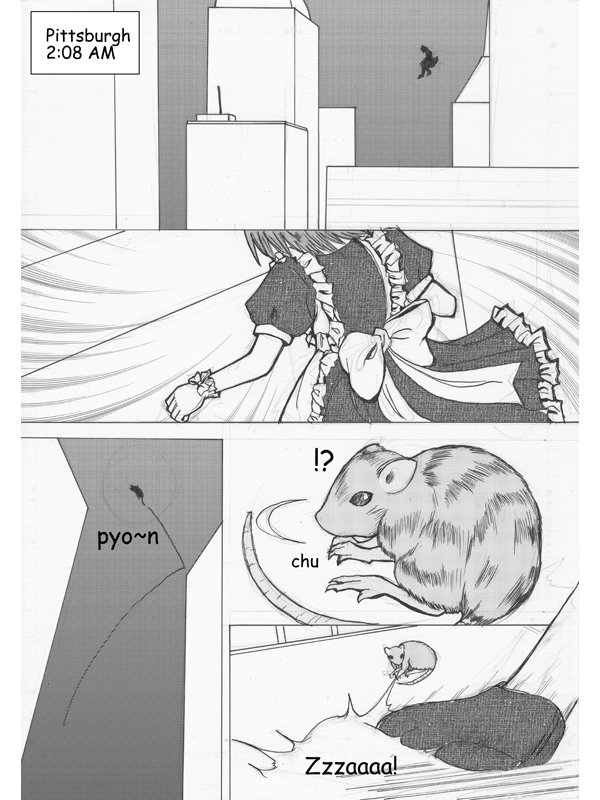 "Mouse Captor Anya1" by Akira
(2010-09-27)
I'll work on the buildings when I have time. This is the best I could do f or now. I was working on the last week's last three pages (inking+screen tones). It took more time than I thought.
In this series, I'll have a chance to practice on a action scene + frame composition/outline + background. I messed up on Anya's costume. Clothe should be crossed at Anya's back. It was late at night, I wasn't thinking at all.
Maybe I should change from "Mouse Captor Anya" to "Mousecaptor Anya"?

Please write your comment to this strip at pOnju forum
"Experiencing Technical Difficulties" by Totaku
(2010-09-27)
Good day people of the Tsunami Channel. I am here to inform you all that my weekly planned "Looking into Touhou with Detail" has been put on temporary hold.
This is mainly due to my mouse failing on me.
I am currently typing this up via Wii to let you all know what happened.
I expect to return fully functionable sometime after October 1st when I should have a new mouse by then.
Till then please be paitent.
Till next time.
Totaku